afo auto fire extinguisher balls
AFO fire extinguisher ball automatic fire off device!
AFO means auto fire off, also called afo fire balls and afo fire extinguisher balls" are a type of fire suppression device that can be thrown into a fire. When they come into contact with flames, they release a powder that helps to extinguish the fire.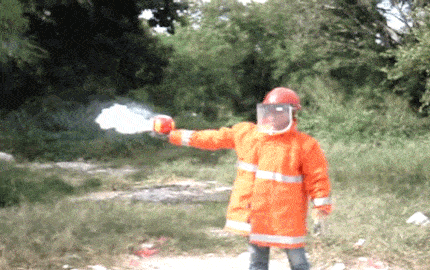 afo fire extinguisher ball company
AFO fire extinguisher ball company was founded in 2006 as a professional fire extinguisher device manufacturer, supplying various types of fire fighting equipment such as AFO fire extinguisher ball (automatic extinguishing ball), fire extinguisher, valve, fire hose, cabinet, hydrant, and so on.
Factory wholesale price for single extinguisher balls, don't worry to contact!
afo auto fire extinguisher ball specifications
With a weight of only 0.5/1.3 kilograms and the shape of a ball, even the elderly and children can easily use it. As long as the flame is touched for 3-5 seconds and reaches 70 degrees C
You no longer need to be close to fire scenes to extinguish the fire; it is made of completely harmless to the environment and is safe for users.
Fire Extinguisher Ball is made of non-toxic materials that are safe for humans and the environment.
When thrown into or rolled into fire, it will explode and make a huge noise, attracting the attention of everyone nearby.
With a weight of only 1.3 kg, it is suitable for both children and the elderly.
Simply throw it into the fire or install it in any high-risk areas.
It is not necessary to get too close to the fire to use it.
Suitable for a wide range of applications.
Product development has a high priority at AFO factory. With an excellent team, rich experience, we are highly accepted by customers, and well-known for supplying best-quality auto fire off ball all the time.
AFO's Distributor & area suppliers
We supply our afo automatic fire ball all over the world at very competitive prices. The countries we currently supply are listed below.
AFO is a fully automatic fire extinguisher which  is auto fire guard. When throwing into or rolling to fire, it will explode and make huge noise to catch everyone's attention nearby. You can also place it where the hotspots are such as flammable objects, circuit breaker box, and gas tank. In case of fire, it will put out the fire by itself thus guarding lives and property.
Itz is biodegradable product which is so easy to use even in your cars also.its will automatically burst when catch fire.recommeded product for domestic use 👍
Very nice product need to store anyone and also use full when emergency occurs best product it is so go for it!
Nice presentation , exonomical ANTASTIC BALL. ITS REALLY PREVENT FIRE
Excellent and very easy to use, really appreciative product. I abide the nation's motto "MAKE IN CHINA" We will definely getting more business together
afo fire extinguisher ball brochure and certificate
If you need to cooperate with us, we can provide all product certificates and brochure details, please contact us by email or WhatsApp, we will reply as soon as possible
Key Takeaways: Fire blankets are essential fire safety tools for any commercial kitchen. They can help prevent fires from spreading, reduce property damage, and save lives. In this article, we will explain what
Read More »